Newsletter: An ode to #energytwitter
We want to hear about your experience with #energytwitter too!
What's the first thing that springs to your mind when I mention Twitter? If it's not being an unmatched source of breaking news, it's probably something like this: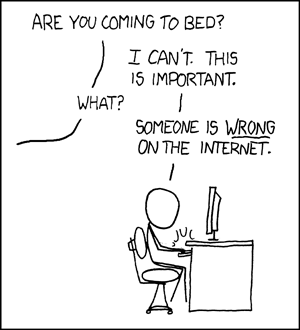 Well, if you're not an avid Twitter user, I want to let you in on an open secret shared by many of us working in energy. It's called #energytwitter, and it's quite different than the comic above (unless there's a debate about nuclear or a 100% renewable grid).
Instead, it's a community of diverse opinions and voices with one common thread: an interest in promoting progress and better understanding in the wonky world of energy. And it seems virtually everyone is eager to help one another.
Canary Media editor-at-large and prolific tweeter David Roberts understands the power of #energytwitter and will often crowdsource answers to questions on his mind. Famed futurist Ramez Naam tapped the collective wisdom of #energytwitter just this week.
And speaking of power, as Chris Nelder pointed out, before he was a congressman, Sean Casten was (and still is) a regular member of the #energytwitter community.
It's not all men, either, as many are quick to emphasize whenever lists of the top social media influencers in the energy space are released. CeCe Coffey tweets, ​"Energy Twitter is not all male" and highlights a few prominent women in the energy space. Soon follows an amazing crowdsourced list of women in energy. (Hat tip to Commercial Solar Guy, who has been keeping a running list of threads that highlight the women of Energy Twitter, including this list by Jesse Jenkins.)
It's not all white, either. Mary Annaïse Heglar, co-author and co-host of newsletter and podcast Hot Take, has an excellent list on Twitter you should follow, Green Voices of Color. She writes, ​"The climate movement isn't all white. This list proves it."
#Energytwitter is the best Twitter. Come for the community; stay for the memes. Follow along with the hashtag, or take it a step further and join Simon Mahan's #energytwitter directory.
Do you have any stories about your experience with the #EnergyTwitter community? Let us know and drop a link to a relevant Twitter thread in the comment section!
And it should go without saying that if you're not yet following Canary Media on Twitter, be sure to do so here!
***
Prior to joining Greentech Media in 2013, Mike spent five years at Forrester Research, researching social media and consulting with companies during the relatively early days of so many platforms. Mike will be writing more about the intersection of these two personal interest areas, social media and energy & climate. If you have any tips, drop him a note at [email protected].